Yes, we really do have them in stock!
The Philips HeartStart defibrillator battery carries a 4-year Standby life (life while installed in the AED and in standby mode) and 5-year shelf life (new and uninstalled in AED).
The Philips HeartStart M5070a defibrillator battery has the capacity to deliver a minimum of 200 shocks or 4 hours of patient monitoring.
The battery typically lasts 4 years after installation keeping your Philips AED in "ready to use" condition as well as running mission-critical self-tests. Note that using the AED in the course of an emergency rescue or training activity will place a greater drain on the battery and lessen the install life.
Expiration Date (How to determine your expiration date?)
*The Philips AED battery M5070a does not display an "Expiration Date" on the battery but instead displays an "Install Before" date.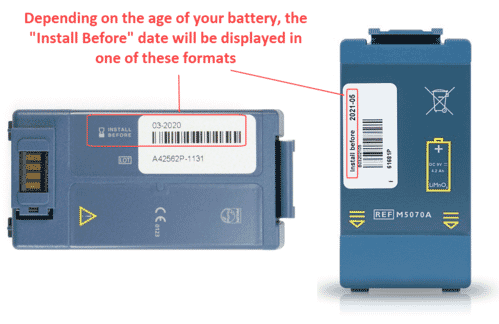 Date Battery is Installed
It is very important to record the date you install your Philips battery into your AED for service. When the battery is installed in the device you have 4 years from that date until the battery expires. *Our free AED management software will make managing one or any number of AEDs you own, simple and easy.
Shelf Life
The "Install Before" date represents the Shelf Life of the battery (new and uninstalled in an AED). This date is typically 5 years from the date of purchase. For example, if the "Install Before" date was 2023-05 you could store the battery and safely insert in your AED during May 2023 to start your 4-year use of the battery giving you an expiration date of May 2027.