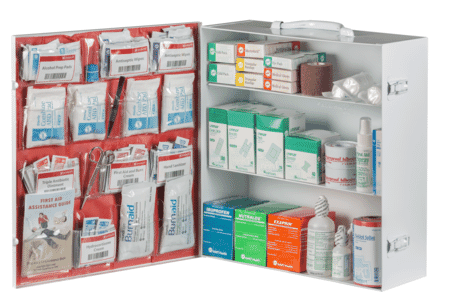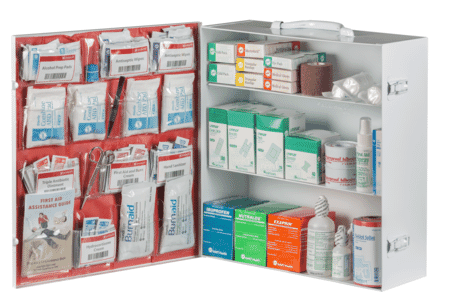 (Click to Enlarge)
First Aid Kit Class B Plus Tablets
Class B First Aid Kits Plus tablets include Class B kit items, as well as Pain Relief tablets, Ibuprofen tablets and Antacid tablets. 
ANSI & ISEA Class B Compliant
The American National Standards Institute (ANSI) and International Safety Equipment Association (ISEA) – Minimum Requirements for Workplace First Aid Kits and Supplies (ANSI/ISEA Z3-8.1-2015) establishes minimum performance requirements for first aid kits and their supplies. First aid kits are classified based on the assortment and quantity of first aid supplies intended to deal with most types of injuries and sudden illnesses that may be encountered in the workplace. As each work environment is unique, it is expected that the contents of each kit will be supplemented as needed based upon the recommendations of a person competent in first aid.
First Aid Supplies
Class A
Class B

Class B +

Tablets

Triangular Bandage
1
2
2
Eye Pads 4/pack
1
1
1
Ice Pack
1
2
2
Disposable Nitrile Gloves- Two Pair
1
2
2
First Aid Guide
1
1
1
1"x3" Elastic Strip 100/box
1
1
1
Fingertip Bandage 40/box
1
1
1
Knuckle Bandage 40/box
1
1
1
Large Patch 25/box
1
1
1
Adhesive Tape 1x5 Yards
1
2
2
2"x 4.1 yards Roller Gauze
1
2
2
3x3 Sterile Gauze Pads 10/box
1
1
1
5"x9" ABD Pads
2
4
4
Burnaid 4x4 Dressing
1
2
2
CPR Mask
1
1
1
Eye Wash 4 oz.
1
1
1
First Aid and Burn Cream 25/box
1
1
1
Hand Sanitizer 25/box
1
1
1
Triple Anitbiotic Ointment 25/box
1
1
1
Antiseptic Wipes 20/box
1
1
1
Wire Scissors 4"
1
1
1
Padded Splint
-
1
1
2" Medi Rip
-
1
1
Alcohol Wipes 50/box
-
1
1
First Aid Antiseptic Pump 2 oz.
-
1
1
Tourniquet
-
1
1
Eye Wash 1 oz.
-
2
2
Hydrocortisone Cream 25/box
-
1
1
4"x4.1 yards Roller Gauze
-
1
1
Metal Tweezers
-
1
1
Pain Relief 100/box
-
-
1
Ibuprofen 100/box
-
-
1
Antacid 100/box
-
-
1